TR and TR HD utility trailers
The TR and TR HD utility trailers feature innovative transportation solutions that facilitate everyday operations. The trailers are very mobile on roads and fields, facilitating transportation while reducing fuel consumption. The extremely durable trailers are made of high grade steel.
Carefully finished products

High quality trailers

Strong body

Durable chassis

High volume for chassis size

Versatility with accessories

Pioneer of rectangular tube frame construction
The basic structure of Multiva trailers has always been the tube bar chassis. The structure has extreme torsional strength. High material strengths and thoughtful structural details combined with Ruukki's Double Grade steel further increase the strength of the chassis.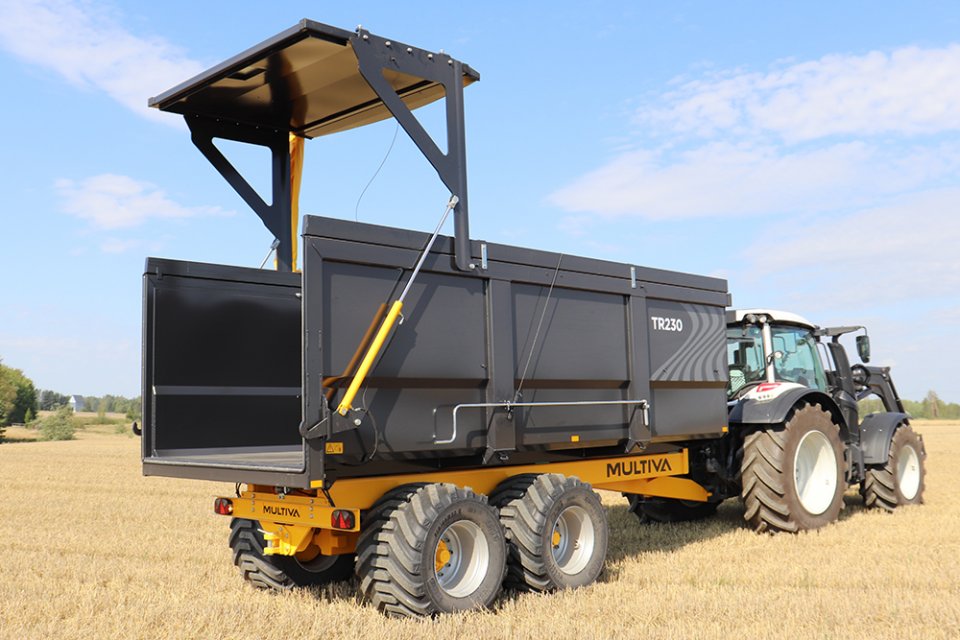 Innovative body structure
Thanks to the edging of the side plates and heavy-duty support beams, the body is stronger and larger than before. The conical body made of high-strength steel with robotic welding offers excellent unloading performance under all conditions. The hydraulic tailgate is made of a plate that has no welding joints. This makes the structure highly resistant to wear and tear.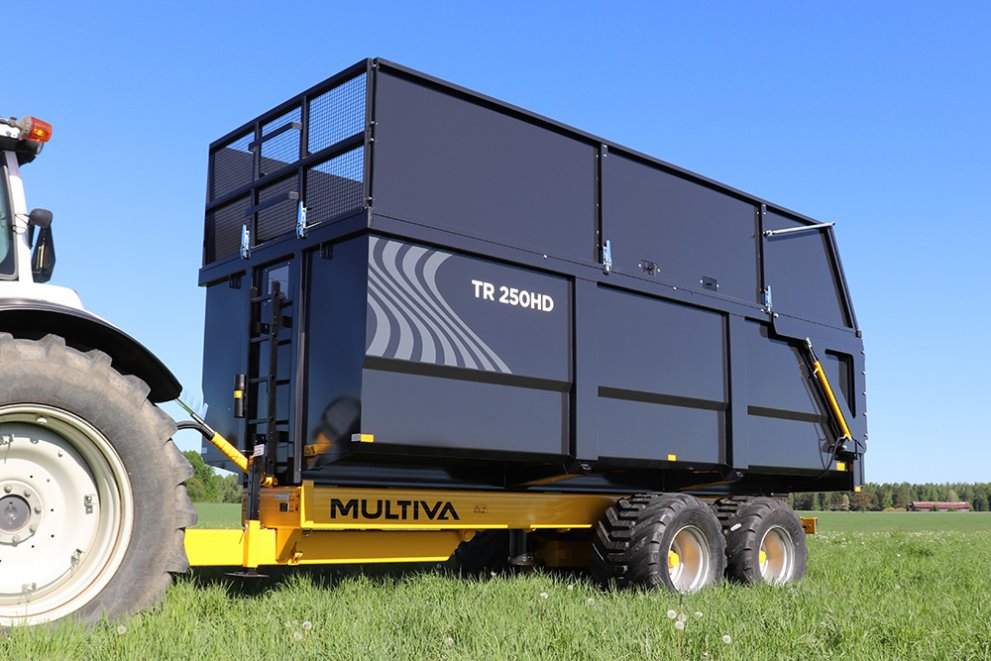 Versatile trailer
The versatile accessories of the TR trailer product line ensure its suitability for various applications. The larger models have hydraulic suspension as a standard feature, making the trailer incredibly steady on the field, on the road, and even during unloading. The trailer's capacity can be easily and quickly increased with a silage extension cassette.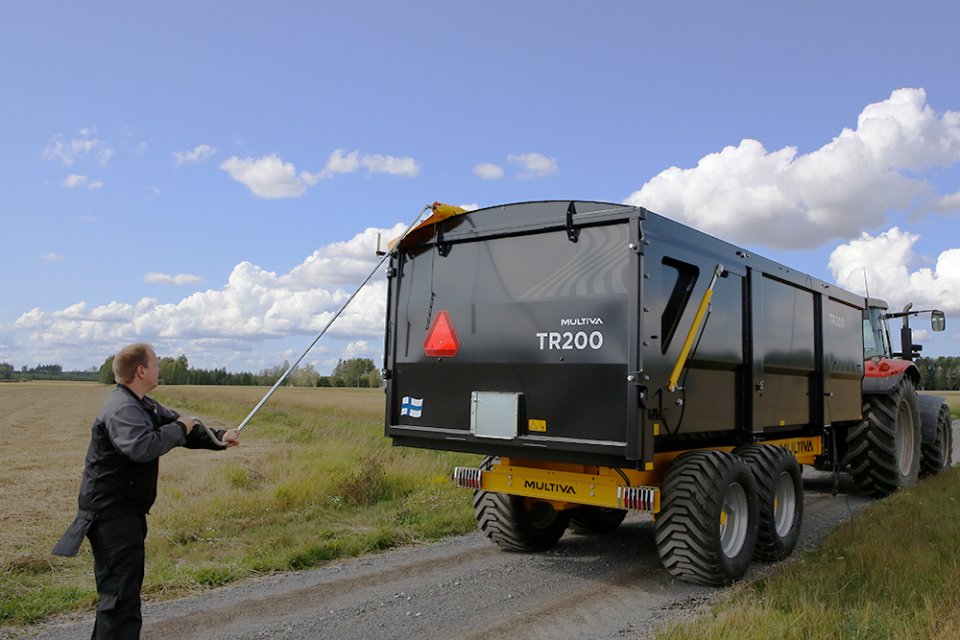 User-friendly solution
Our trailers have been developed with emphasis on safety and user-friendliness. For example, the practical roll cover option improves the trailer's practicality and occupational safety. The user is able to cover the trailer manually from the ground. The tarpaulin is rolled over the trailer with a winch delivered which is included in the delivery.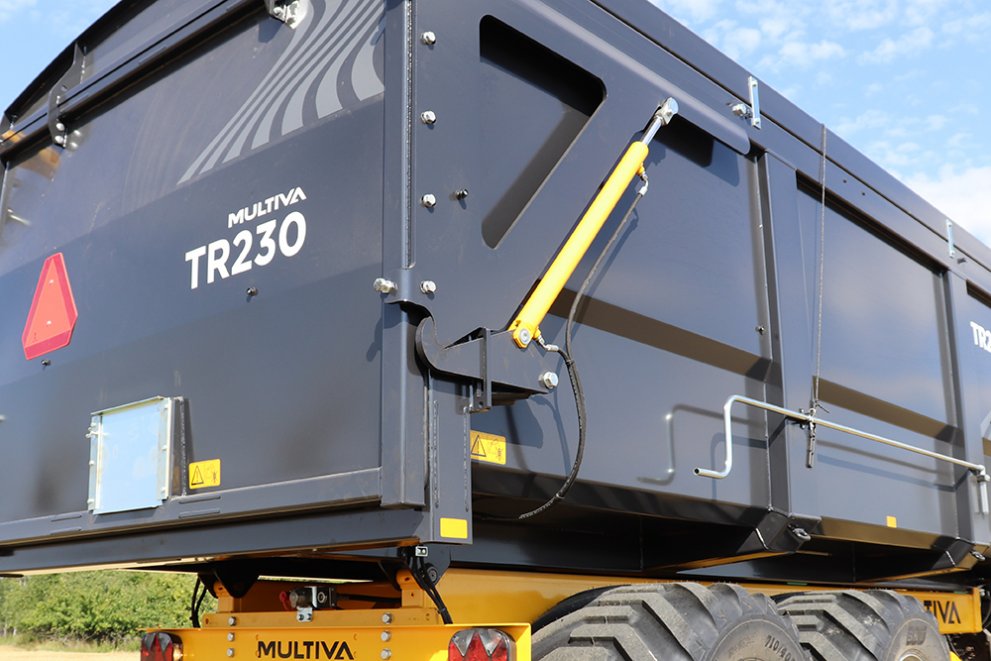 Durable tailgate arms
Tailgate arms are made of solid plate - it does not contain any weldings. This makes the structure very resistant and durable. The hydraulic tailgate has an automatic and reliable locking.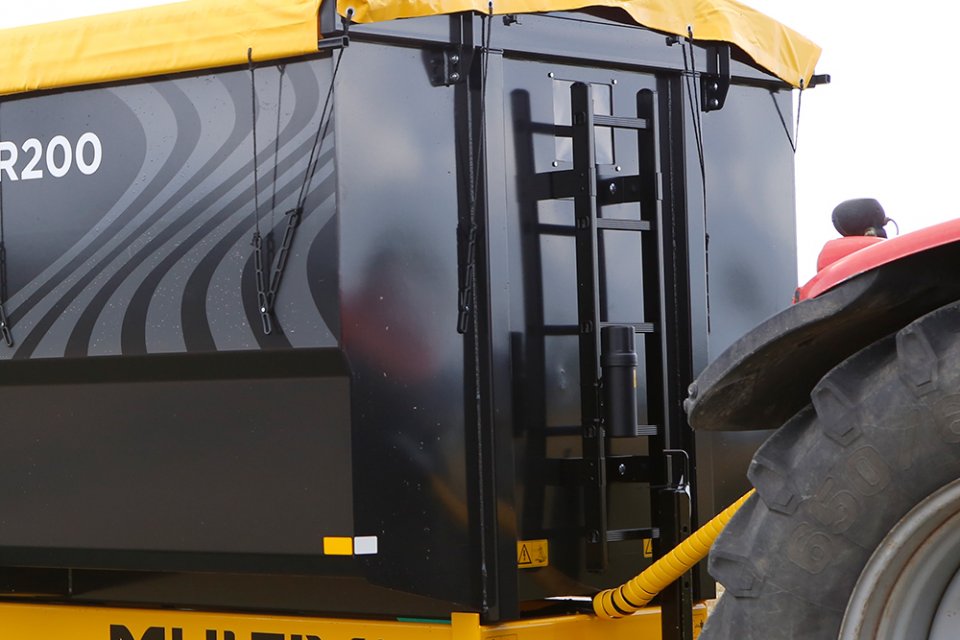 Practical ladder and a window
The plexiglass window on the front side and a fixed ladder make the trailer safe and comfortable for the user.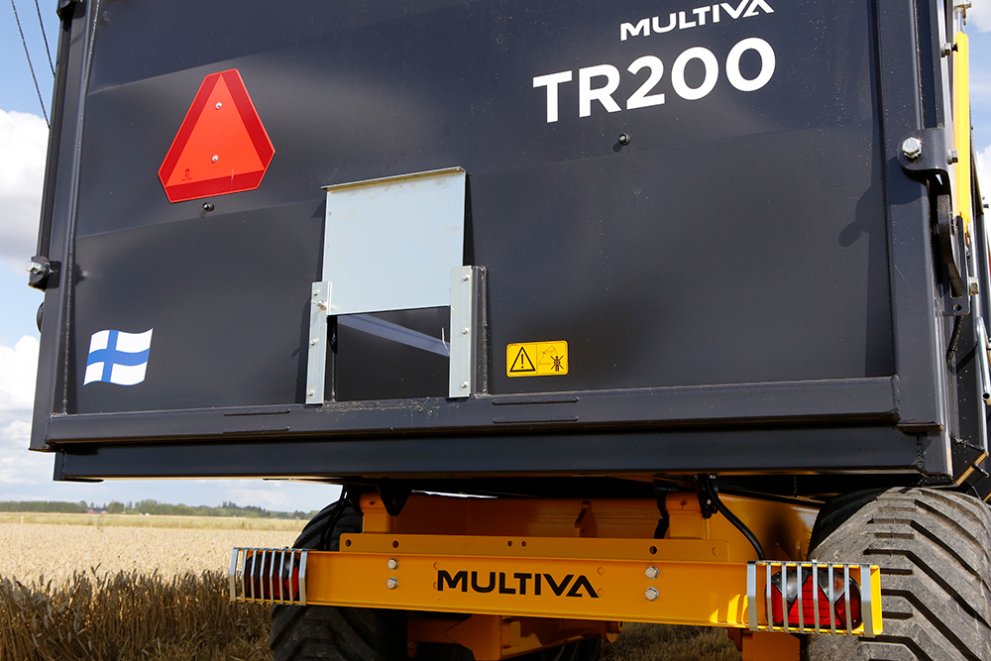 Tailgate and grain hatch
The tailgate is situated totally outside the body of the trailer, which guarantees excellent emptying of the body in tipping. The compression of the tailgate seal can be adjusted. TR trailers have an easy-to-use grain hatch as standard.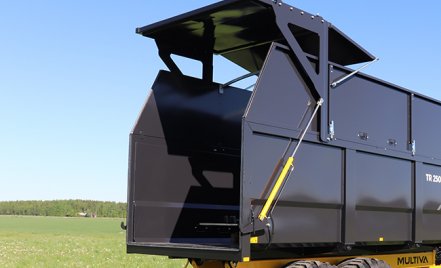 Extensions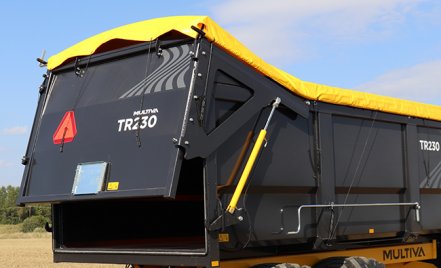 Rollcover
Technical specifications
| TR | TR200 | TR230 | TR200HD | TR250HD |
| --- | --- | --- | --- | --- |
| Body volume, m³ | 21,2 | 21,2 | 21,2 | 23,4 |
| Volume with extension, m³ | - | 23,2 | - | 25,6 |
| Volume with silage extension, m³ | 35,8 | 35,8 | 35,8 | 39,5 |
| Capacity, tons | 16 | 18 | 16 | 18 |
| Axles | Boggie | Boggie | Boggie | Boggie |
| Brakes | 2 wheel (300x90) | 2 wheel (400x80) | 2 wheel (400x80) | 2 wheel (400x80) |
| Drawbar suspension | - | - | hydr. | hydr. |
| Inner dimesions L*W*H | 575*230*160 | 575*230*160 | 575*230*160 | 635*230*160 |
| Height, cm | 280 | 290 | 280 | 300 |
| Full width, cm | 255 | 255 | 255 | 255 |
| Standard tyres | 550/45-22.5 | 600/50R22.5 | 550/45-22.5 | 600/50R22.5 |
| Tip | 2*6 | 2*6 | 2*6 | 1*5 |
| Tip oil requirement, l | 30 | 30 | 30 | 37 |
| Weight with standard equipment, kg | 4140 | 4370 | 4250 | 4950 |